Symbol
Zoom in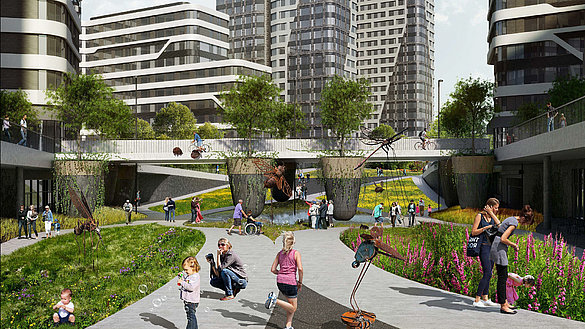 Address: 11, Zolotorozhsky Val, Moscow
Scope: Engineer-Procure-Construct
Scale: 214 000 sq. metres
Symbol Residential Quarter is Donstroy's latest project and its largest to date. The new quarter will occupy about 60 hectares, bordered by Zolotorozhsky Val, Shosse Enthusiastov, and Serp i Molot Proyezd. The quarter is close to Moscow's downtown area and less than 5 km from the Kremlin, 1.5 km from the Garden Ring and less than 1 km from Lefortovo Park. A key element of the project is that the residential buildings are set around a central public park which links the business, cultural and social areas together. This green 'river' flows throughout the whole area, spilling over into the neighbouring courtyards and public spaces. As part of the redevelopment of this area, formerly occupied by the Hammer & Sickle industrial estate, 1.5 million sq. m of real estate will be built, including 857,000 sq. m of housing. The residential development will feature 30 apartment buildings with largely glass façades, ranging between three and 27 storeys high.
In addition to housing, Symbol Quarter will include facilities for business, sport, culture and commercial use. There will be two business centres, two schools for 2,360 students, eight nurseries for 1,030 children, adult and paediatric family medicine practices, open-air and covered sports stadiums, children's play areas, medical centres and shopping malls. The quarter will offer plenty of opportunities to stroll along green boulevards and spend leisure time outside.
The development concept has been designed by the internationally renowned architecture studios UHA London and LDA Design. The architecture studio Atrium is working directly on the first phase of the project.
FODD Construction is the general contractor for the first phase, which includes five buildings of varying storey heights occupying a total area of 214,000 sq. m.
FODD Construction is carrying out the full range of engineering-procurement-construction work for the first phase of Symbol, scheduled for completion in 2017.
Donstroy is Moscow's leading property developer specializing in luxury residential real estate. Its portfolio of completed and current projects covers around 6.2 million sq. m. Financial support for the construction of all projects is provided by VTB.