Headquarters on Mosfilmovskaya
Zoom in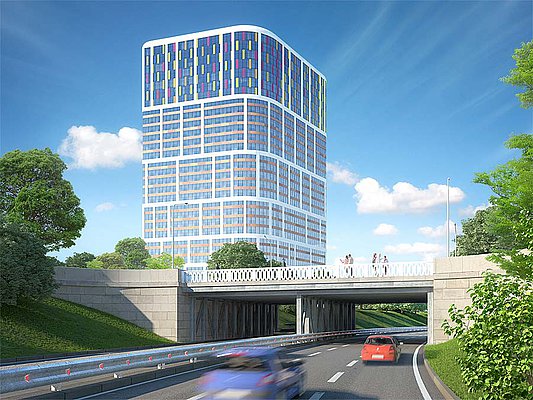 Address: 5, Bolshaya Sadovaya St, buildings 1 and 2, Moscow
Scale: 60,000 square metres
General contractor: Morton
Headquarters on Mosfilmovskaya is a 29-storey mixed-use high-end residential complex located in the west of Moscow and including apartments, an underground car park, business centre, shopping arcade and restaurants. An original architectural design with panoramic windows, the complex blends in seamlessly with the neighbouring historic buildings. Some of the capital's best residential areas are in the immediate vicinity, making it a very pleasant environment to live in.
Headquarters on Mosfilmovskaya is a vibrant architectural project incorporating high-tech exterior and interior solutions. Much of the building façade includes stained glass and original ventilated façade systems. The entrance lobbies, lift hallways and corridors are decorated with high-quality materials including natural stone. The lift mechanisms will be supplied by leading European manufacturers.
The residential area is located on levels 5-29 of the complex. Levels 5-22 have 16 apartments per floor with balconies overlooking Mosfilmovskaya and Minskaya Streets. Levels 23-29 will contain 15 larger apartments. Access to these levels is provided by four dedicated lifts and a separate lift hall.
The complex features a four-level underground car park with 477 spaces. The parking area is accessible via self-contained lifts that give a direct connection to the residential levels.