"Headquarters on Mosfilmovskaya"
Zoom in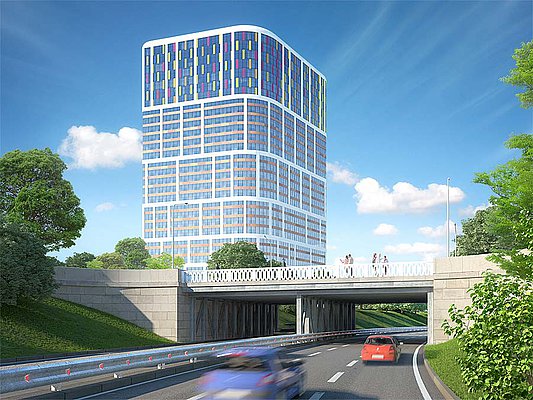 Address: Downtown Moscow, Big Sadovaya Str., 5, bldg. 1, 2
Scale: 60 000 square metres
General contractor: Morton
Headquarters on Mosfilmovskaya is a 29-storey multifunctional business-class residential complex. The complex is located in the prestigious Moscow's West and includes an underground parking garage, business centre, shopping gallery, and restaurants. An original architectural design with panoramic windows, this complex fits organically into the existing neighbouring buildings. Within the immediate proximity are the best residential quarters of the capital, which creates an overall pleasant social infrastructure for the future residents of the complex.
Headquarters on Mosfilmovskaya is a bright architectural solution that makes use of high-technology exterior and interior solutions. Much of the building façade includes stained glass and original ventilated façade systems. Entrance and elevator hallways are decorated with high-quality materials including natural stone. The leading European manufacturers will supply elevator mechanisms.
Residential areas are located between levels 5 and 29 of the complex. Levels 5 through 22 feature 16 apartments with balconies overlooking Mosfilmovskaya and Miskaya streets. Levels 23 through 29 are designed for 15 larger apartments. Access to these levels is provided by four dedicated elevators and a separate elevator hall.
The complex features a parking garage with four underground levels, with 477 parking spaces. Parking area is accessible through autonomous elevators that provide direct connection to the residential levels.