Elite Residential Building "Bulgakov", EPC
Zoom in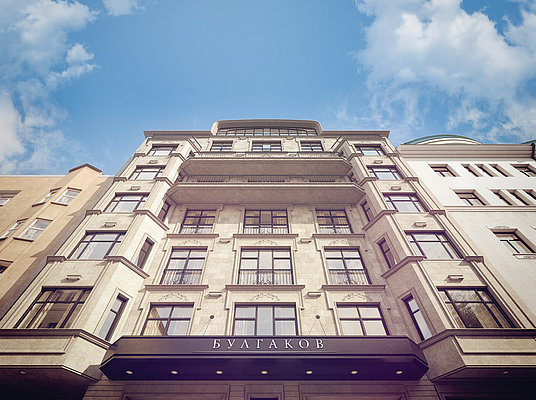 Address: Big Kozikhinskiy Per. 25, bld 1, Downtown Moscow
Project Scope: Engineer – Procure – Construct 

Project Scale: 4 250 square meters
An elite residential building Bulgakov is located in the historic city center near Patriarch's Ponds. The building includes 2 underground parking levels and 8 residential floors.
Features:
Ventilated façade made from natural stone (Germany) -
Uniquely crafted forged-iron balcony decorations -
Roofing and gallery design that can accommodate patio furniture -
Combination slate roof -
High-quality window and stained glass profiles by LIPP (Germany) -
Modern engineering solutions, including potable water and heating systems, that fit a Premium-class building.
Patriarch's Ponds is an iconic place in the center of Moscow. The area received its name in mid-seventeenths century after Moscow Patriarchs chose to reside here. Three fishing ponds were created then but only one still remains today in its original place. For every muscovite, this area is also prominently associated with Mikhail Bulgakov's novel 'The Master and Margarita'. The area of Patriarch's Ponds—located within Moscow's Garden Ring and featured in literary works and many modern films—is an established and affluent neighborhood that offers its residents easy access to gourmet restaurants and best shopping locations as well as proximity to the urban nature sanctuary.