City quarter "River Park"
Zoom in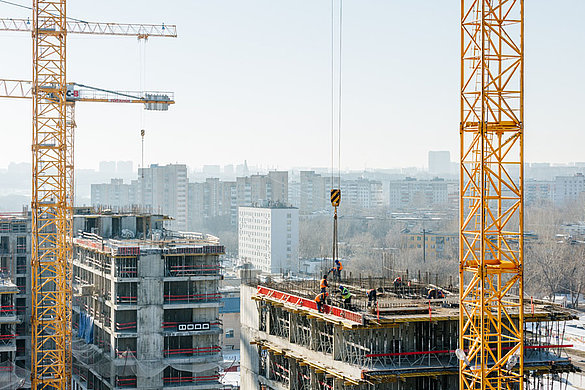 Address: Rechnikov Street, bldg. 7
Developer: "Rechnikov Invest"
Scale: 187 000 square metres
City quarter "River Park" is the only comfort-class project in Moscow that provides easy access to water and luscious parks at the same time.
From the north and east, the quarter's territory is surrounded by water, and future residents can reach the neighboring famous nature and historic site Kolomenskoe within a short, 5-minute walk. Other nature sights close to the River Park are Nagatinskaya Poima park and Sadovniki park.
Mixed-height buildings in post-constructivist style make up cozy courtyards and create comfortable and relaxing inner spaces. Most apartments have magnificent views of Moscow River, creating the sense of vast, open space.
The overall lot size of the city quarter River Park is 29 hectares, of which residential buildings occupy only 30%. The buildings vary in height ranging between 9, 12, 13, 15, 18, and 19 stories. The rest of the territory is occupied by spacious common-use areas, including a boardwalk quay, promenades, parks, sports grounds, parking garages for a total of 2 500 spaces, an entertainment and shopping mall, and a business center. Overall, River Park will be a home to some 6 100 people.
Project River Park is being developed by the AEON Corporation in partnership with Ferro-Story, development company Rechnikov Invest, and with financial partnership with Sberbank.General project design was done by the architectural bureau Ostozhenka.
Privately held company FODD acts as a general contractor for Phase II and III of the project (bldgs. 1, 2, 3, 5, 6 and 7) of the city quarter "River Park".