Elite neighbourhood "Peking Gardens"
Zoom in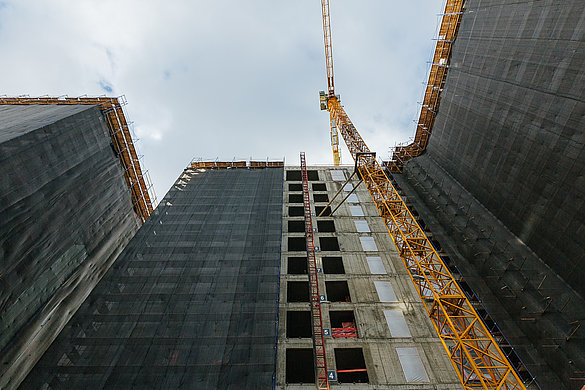 Address: Downtown Moscow, Big Sadovaya Str., 5, bldg. 1, 2
Scope: Engineer-Procure-Construct
Scale: 65 000 square metres
Elite neighbourhood "Peking Gardens" is located in close proximity to hotel "Peking" and includes two 13-floor residential buildings with the combined area over 65 000 square metres that will hold 330 elite apartments. The complex also encompasses a 6-floor administrative and business centre that supports the hotel.
Architectural design is developed by M.V. Posokhin "Mosproekt-2". The new residential neighbourhood forms a neatly fitted architectural group with hotel "Peking", which was designed by Dmirty Chechulin and build in 1949-1955.
Facades of the new buildings are made out of natural stone and top-floor apartments feature panoramic windows.
The distinctive feature of this project is roof gardens which gave the name to this complex.
Upper floors of the complex will house 30 panoramic penthouse apartments with the views of the Kremlin, the Ministry of Foreign Affairs building, and Moscow-City.
The infrastructure of the complex includes a two-level parking for 430 cars, a fitness-centre, two childcare facilities, a cinema, several restaurants, a dry-cleaning, and a SPA salon.
Elite neighbourhood "Peking Garden" received Top Award in "Elite Object Nr 1" nomination at the 2014 annual international competition "Records of the Real Estate Market".
"FODD" is a general contractor for the elite neighbourhood "Peking Gardens".