Peking Gardens
Zoom in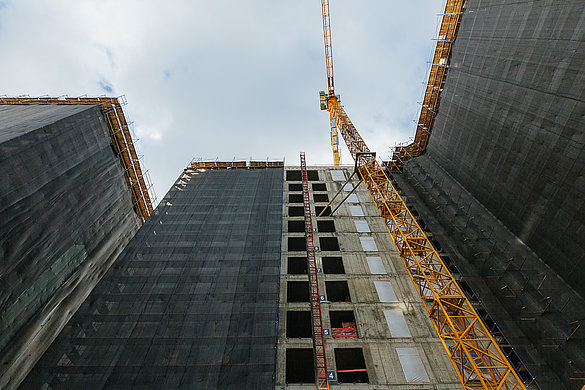 Address: 5, Bolshaya Sadovaya St, buildings 1 and 2, Moscow
Scope: Engineer-Procure-Construct
Scale: 65,000 square metres
Peking Gardens is an elite neighbourhood situated in close proximity to the Peking Hotel and comprising two 13-floor residential buildings with a combined area of over 65,000 sq. m that will contain 330 luxury apartments. The complex also includes a six-floor administrative and business centre that supports the hotel. The architectural design was developed by M.V. Posokhin Mosproekt-2.
The new residential neighbourhood forms a neatly fitted architectural group with the Peking Hotel, which was designed by Dmitry Chechulin and built in 1949-1955.
The new buildings have façades of natural stone, and the top-floor apartments feature panoramic windows.
A distinctive feature of this project is the roof gardens after which the complex is named.
The upper floors of the complex will house 30 panoramic penthouse apartments with views of the Kremlin, the Ministry of Foreign Affairs building, and Moscow-City.
Amenities within the complex include a two-level car park with 430 spaces, a gym, two childcare facilities, a cinema, several restaurants, a dry cleaner's, and a spa.
Peking Garden won first prize in the "No. 1 Elite Site" category at Records of the Real Estate Market 2014, an annual international competition.
FODD is the general contractor for Peking Gardens.