Residential Quarter "Saturday"
Zoom in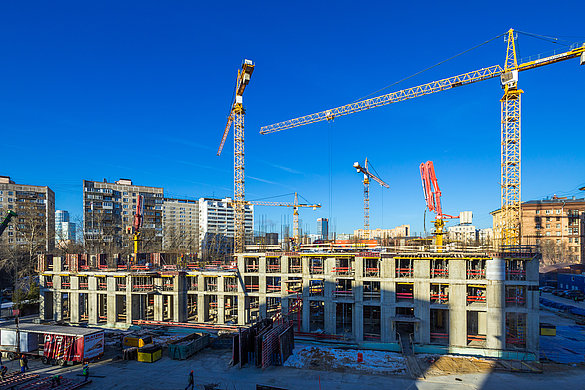 Address: Verhnaya Str, 34
Scope: Engineer-Procure-Construct
Scale: 81 000 square metres
Residence "Saturday" is a new project undertaken by DONSTROY company in the Premium segment. The residence is located within a short 5-minute stroll from Belorusskaya station and 1st Tverskaya-Yamskaya Street, surrounded by iconic buildings of 1950s that form the monumental façade of Leningradskiy Prospect. The exterior of "Saturday", which was designed by a famous Russian architectural bureau UNK project, features a modern take on the Stalin's architecture and harmonically fits in with surrounding buildings. The residence includes 394 apartments for a total of 40 560 sq metres. Future residents will have a choice among a number of apartment sizes that range from 35 to 176 sq metres. High ceilings, ranging from 3,2 to 4,3 metres and panoramic windows will open up spectular views of the historic Moscow downtown. The ground floor houses 4 497 sq metres of space for commercial, non-residential use that would form the quarter's infrastructure, including a mini-market cafes, specialty and drug stores, beauty salons, and service offices. Furthermore, future project development includes the construction of an educational centre with a kindergarten for 90 children and a school for 200 students. The residence is formed in a classic quarter shape with a spacious enclosed courtyard with parks and leisure areas. Quarter residents will also have convenient access to a 2-story underground parking.
Privately held Don-Story Invest is a construction and development company that specializes in the segment of elite real estate. The portfolio of projects that have been completed or are under construction totals to about 6,2 mln sq metres. Financial support for the projects is provided by the company's long-term financial partner, VTB Bank.
Privately help company FODD Construction is providing a full scope of planning and construction services for the residential quarter` Saturday project.